Employee registrations are split into 2 steps: first you need to record the employees' information on the platform and subsequently request them to activate and finalise the registration process.
How do I upload a batch registration?
With this option you can upload a number of employees to the same group by following these steps. For a batch upload of employees to another group, you will simply have to repeat the steps.

In the Employees section > Click on the 'Add' button.
On the modal, select the option 'Batch upload', in which you will find an explanatory text with instructions.
Download the sample template by clicking on the 'Download template' button.
Complete the template with the information for all the employees that you want to upload to a specific group.
Select the group to which you want to upload the employees, click on the 'Upload template', and select the file that you have completed.
If all the information is correct, the employees will be shown on the 'Employees ready to be invited' list. Otherwise, you will see them on the 'Employees with errors' list (see possible upload errors).
Select one, several or all employees on the 'Employees ready to be invited' table and click on the 'Invite' button. The employees will receive the invitation email to finalise the activation process.
Repeat from step 4 to upload employees to a new group.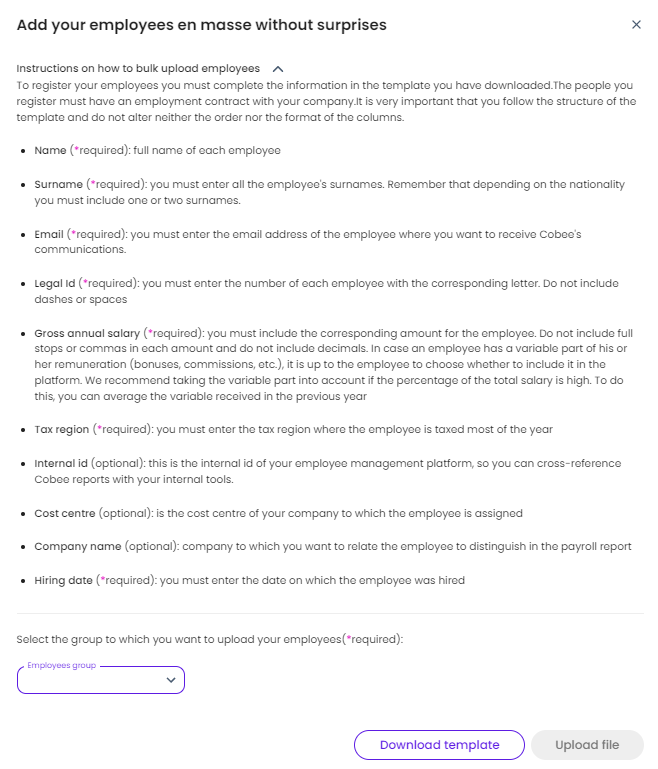 💡 Remember! 
For information privacy reasons, the salary will not be shown after inserting 
it on your Cobee platform. To change it, you only have to enter a new amount 
and save the form.
To understand what each field represents and what it is used for, you can see more detailed information about the fields here.