In this section you will be able to view and manage the employee's card.
In the event of the card being lost or stolen, the employee should always contact Cobee directly to report the incident in all cases. Otherwise, you can deactivate it from this section.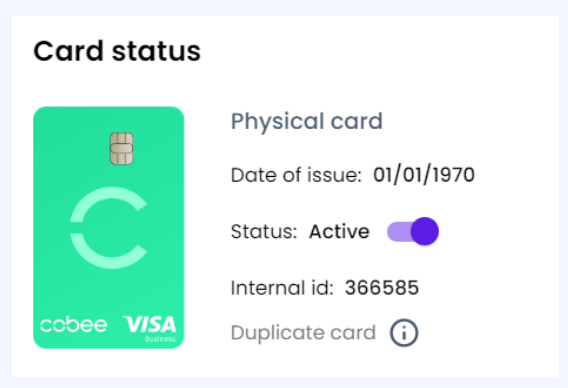 Request a duplicate card
To request a duplicate card, it is as simple as for the employee to contact us by e-mail through soporte@cobee.io indicating the name, surname and ID, in addition it is important to comment the reason for requesting a duplicate card.
💡 Remember! 
The employee must contact Cobee directly to report this type of incidents. 
You can send the request from the App from the Profile tab by accessing the 
Card Management section.
Other Relevant Information
In addition to all this information, you can also see:
Employee's transaction history in order to clear questions with the employee.
Current month's usage
Recurring payments for benefits such as Health Insurance, Training or Nursery.